Resident Late Model Gearhead
I have painted a lot of the junk that came with the Modular Ford and I think it all looks pretty good. I am hoping that when I pop the hood it will get some lookers because the car isn't the prettiest!
A funny story comes to mind from the 2015 Hot Rod Power Tour. My dad and I were leaving a venue, he in his '67 and me in my '99, and there was a dedicated lane to go for when you leave. Along this path was an army of people watching but also this guy who must have worked for Hot Rod with a giant camera like in the movies. He had this thing on a stabilizer strapped to his shoulders and captured my dad leaving with cinematic-like quality, and I was so excited to have the lens pointed at me next as I was right behind him. Nope! As soon as dad got past the camera man, he put his camera away! Yeah, sure I guess I don't want my car on TV! Thanks anyway!
While I am waiting on that head to come back, I have been working on school stuff too. I am taking a CAD class and recently completed my curio cabinet project. That was a PITA. I also took a drive down to the Tail of the Dragon with a friend of mine in his BMW! I got to drive the way back on the tail, it is an amazing road and the posted speed limits are for real: those are too tight to even consider going above 30mph! I found my picture online too.
http://xtremesportsphotography.photoreflect.com/store/Orderpage.aspx?pi=0QAK02L3010254&po=251&pc=514
I recently honed out the block and it looks great now for my first try. We also checked my ring gap on one of the cylinders and it is exactly where I need it to be, but I will investigate further when it comes time to put the pistons in for real. I wanted to plastigage my mains and rods today but ran out of time before work, and won't have another chance until Monday. No big deal, just getting anxious! I have been without a clutch pedal and a V8 for almost 5 months. Suffering from withdraws...
Anyway, here are some pics!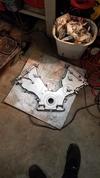 This thing is finally coming together. Yes, this is also the part where I find out everything I did wrong along the way. Hope it isn't gonna be too expensive. RIP wallet!