Finally got the change to do a few chores.
Pull the zero trun out of one of the barns, It had not been used in a couple years. Needed a new battery and cleaned 2 years of dust off of it. Mowed around the barns to make sure everything worked.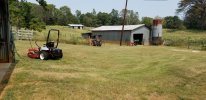 Put a new starter into the John Deere so Julie could mow.
Julie mowed about 5 acres.
Started getting a wall section ready to become the air tool work and storage area. All in all, a real productive weekend.